Hubbell Labeling Solutions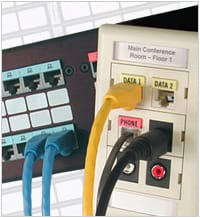 Creating professional, efficient, and accurate labels for complex structured cabling systems is easily accomplished utilizing Hubbell's Labeling Solution software and laser printable label sheets.
Hubbell's Labeling Solution software utilizes a Windows® based environment and standard Windows conventions to allow you to easily create labels for a variety of structured cabling systems for commercial, industrial, and residential applications. Everything you need to produce a single label or multiple labels can be found from one starting screen.
Download Free Software

Hubbell's Labeling Solution software package.
84MB